According to
Arion Press
, November 2011 will see the publication of "Poetry of Sappho" with prints by Julie Mehretu. No images are yet available on their site, but given what I've seen of her work on the 'net, this is bound to be a unique combination of poetry and art.
Mehretu, Untitled etching, 2009
"An Ethiopian-American painter known for her densely-layered abstract images, [Julie Mehretu] lives in New York City and works there and in Berlin. She received the 2005 MacArthur Fellowship. In 2009, Arion Press's Andrew Hoyem and Diana Ketcham met with Julie Mehretu in Berlin, where she was working on "Grey Area," a series of seven large paintings for the Deutsche Guggenheim, shown also at the Guggenheim Museum in New York. She came to San Francisco the following spring and began work on an Arion Press edition of Sappho's poetry."
(text from Arion Press)
Mehretu, Manifestation, 2003
Her style is a good match for the classic poems of Sappho. From Sacred Texts.com:
"Sappho the poet was an innovator. At the time poetry was principally used in ceremonial contexts, and to extoll the deeds of brave soldiers. Sappho had the audacity to use the first person in poetry and to discuss deep human emotions, particularly the erotic, in ways that had never been approached by anyone before her. As for the military angle, in one of the longer fragments (#3) she says: "Some say that the fairest thing upon the dark earth is a host of horsemen, and some say a host of foot soldiers, and others again a fleet of ships, but for me it is my beloved."
Poetry of Sappho is usually associated with more traditional, or classic, or Rubinesque paintings (forgive my ignorance of appropriate art-lingo) such as Lafond's "Sappho Sings For Homer" or this 2nd image that I'm having a hell of a time identifying (anyone?). Mehretu's interpretations promise to be a completely new experience.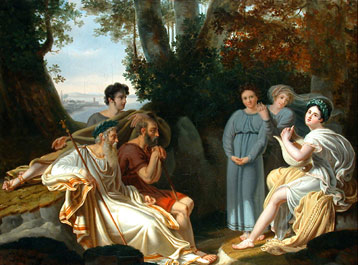 Landford's Sappho Sings for Homer
Unknown Artist
More about the upcoming book:
"This large format, 14½ x 19½ inch, 112 page, book contains 20 double-page Mehretu prints in black and white. Another of her images is on the cover. The English text has been set by hand. Printed by letterpress and hand bound, the book is issued in an edition of 360."
(text from Arion Press)
Although the price is well beyond my budget, I'm very much looking forward to seeing pictures of this - it is going to be amazing.
More information and pre-ordering available at
Arion Press
.